Our team of engineers with over 20 years full, ready to serve our customers with sincerity. Including equipment and facility standards. Therefore, customers can be assured of the quality of service they receive from us.

- Repair Services
- Repair and paint vehicle body
- Wheel Alignment
- Check miles, change engine oil, and check general condition
- Authorized Inspection Center
- Insurance service

Here… we use Suzuki standardized tools to analyze specific issues, espacially for Suzuki cars.

The cars will maintain in the good condition and ready to use, if you regularly check on a regular schedule for maintenance. But to check the performance of the car, you have to use specific inspection thoroughly more than that. Only Suzuki's authorized service dealer is equipped with Suzuki technology, Suzuki SDT - II (Smart Diagnostic Tester - Two), to analyze specific problems. Because we know clearly that the electronic system of the cars nowadays are more complicated. With these advance tools, we will to be able to diagnose the problem accurately, check and analyze initial diagnose problem of the car without disassembly.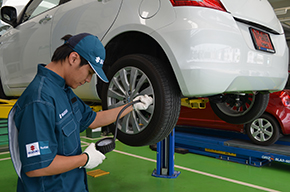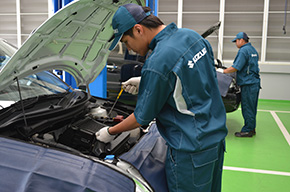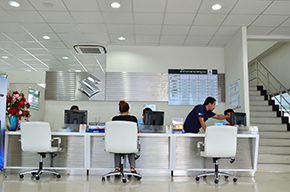 The Suzuki quality and standards of service: You can intrust with quality and service from us.

Suzuki service center here only .... can save you more in the long run.
• Use only Suzuki genuine parts : lengthen the car's operating life.
• Warranty : A history of the service, according to the prescribed booklets, will be used to maintain your vehicle warranty.
• 3 years or 100,000 kms (whichever comes first) warranty for all Suzuki vehicles, providing free labors to 30,000 kms. *

Customer lounge
At our customer lounge, we have all facilities including internet WI-FI, television, newspapers, books, magazines and coffee corner for all customers.